An awarding winning storyteller, Jennifer's wicked sense of humour permeates every story she tells. Her extensive repertoire includes witty, often poignant original stories that explore the triumphs and foibles of the human condition.
Syd Lieberman said of her work: "It isn't often that I laugh and cry during the same story, but Jennifer's tales take on that emotional roller coaster. She carefully crafts her pieces so that her English childhood is fully realized. A good storyteller should move you emotionally and be able to transport you to another time and place. Jennifer's stories do just that."
Jennifer's repertoire also includes original fairy tales for adults, traditional folk and fairy tales, myths, and legends.
EVENT
See Jennifer at The Story Space, Out of the Blue Too, Tuesday, December 6th at 7pm.
(541 Massachussets Avenue, Cambridge, MA).
More information at www.StorySpace.org
New Book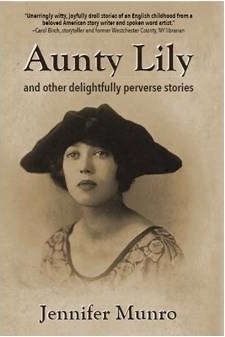 Jennifer is thrilled to announce that her first collection of original stories was published in May of 2016 by Parkhurst Brothers. Aunty Lily and Other Delightfully Perverse Stories contains moving tales of family, loss, love, and the trials of growing up in a scrappy working class neighborhood where kids play in the streets, fair play rules most of the time, and bullies are occasionally vanquished.
Available now from Amazon.com
See Reviews in Amazon:
A heartfelt romp, life lived with gusto
Top notch storytelling from the stage onto the page!
Absolutely lovely. Hilarious and thoughtful short stories!
Reviewed by Jo Radner in Storytelling Magazine:
These beautifully-crafted stories manage to be at the same time literary and fluid and oral. How brilliant the little darts and jabs of phrase, the children's wild glee, the family portraits of (as she puts it) "rogues, gossipers, and raconteurs"! These performance pieces are based on memoir, but as Munro wisely comments, "weaving the events together so that they form a satisfying narrative arc has been largely a matter of fabrication" – an insight she expands upon in an illuminating "Author's Essay." No stories better demonstrate the intimate relationship between humor and deep feeling. These are masterpieces.
The Craft and Commerce of Telling Stories:
Ben and Jennifer Munro