An awarding winning storyteller, Jennifer's wicked sense of humour permeates every story she tells. Her extensive repertoire includes witty, often poignant original stories that explore the triumphs and foibles of the human condition.
Syd Lieberman said of her work: "It isn't often that I laugh and cry during the same story, but Jennifer's tales take on that emotional roller coaster. She carefully crafts her pieces so that her English childhood is fully realized. A good storyteller should move you emotionally and be able to transport you to another time and place. Jennifer's stories do just that."
Jennifer's repertoire also includes original fairy tales for adults, traditional folk and fairy tales, myths, and legends.
Upcoming Appearances
I would love to see you, if you can make it!
October 23rd at 7pm: Wallingford Public Library (200 North Main Street,Wallingford, CT 06492)
October 28that 7pm: Storytelling Fetsival, Pound Ridge Public Library (271 Westchester Avenue, Pound Ridge, NY 10576)
November 5th at 7pm: Celtic Knot in Evanston, Illinois. "Reservations strongly recommended".
Novmber 11th at 7pm: Tellabration ! at United Church of Chetser, CT. Organized by the Connecticut Storytelling Center.
ABOUT
Jennifer recently appeared as Madame Arcati in the Madison Lyric Stage production Noel Coward's Blithe Spirit. (see performance photo)
Here's an excerpt from Meet The Cast of Blithe Spirit:
Jennifer Munro is an award-winning storyteller who has performed her original works all across the nation. Her latest book is entitled "Aunt Lily and Other Delightfully Perverse Stories" and recently won an award from Storytelling Magazine. MLS audiences will remember Jennifer for her scene-stealing performance as Madame Armfeldt in A Little Night Music in 2015.
She is now playing another Madame – Madame Arcati in Blithe Spirit. We asked her to fill out our questionnaire:
Where were you born and where were you raised: Leicester, England

First Broadway show you ever saw: South Pacific

Broadway or screen stars of the past you would have most loved to perform with: Katherine Hepburn

Most challenging role you ever played: Madam Armfeldt, A Little Night Music

Worst flubbed line/missed cue/onstage mishap: When performing a new story for the first time, I completely missed out the pivotal scene in the piece; needless to say, the audience looked a little mystified at what I thought was the rousing conclusion.

Something about you that surprises people: I was once thrown off of a United Airlines plane
New Book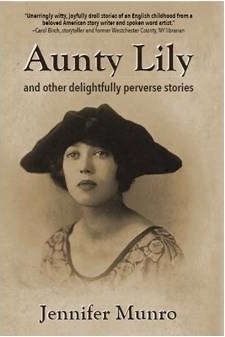 Jennifer is thrilled to announce that her first collection of original stories was published in May of 2016 by Parkhurst Brothers. Aunty Lily and Other Delightfully Perverse Stories contains moving tales of family, loss, love, and the trials of growing up in a scrappy working class neighborhood where kids play in the streets, fair play rules most of the time, and bullies are occasionally vanquished.
Available now from Amazon.com
See Reviews in Amazon:
A heartfelt romp, life lived with gusto
Top notch storytelling from the stage onto the page!
Absolutely lovely. Hilarious and thoughtful short stories!
Reviewed by Jo Radner in Storytelling Magazine:
These beautifully-crafted stories manage to be at the same time literary and fluid and oral. How brilliant the little darts and jabs of phrase, the children's wild glee, the family portraits of (as she puts it) "rogues, gossipers, and raconteurs"! These performance pieces are based on memoir, but as Munro wisely comments, "weaving the events together so that they form a satisfying narrative arc has been largely a matter of fabrication" – an insight she expands upon in an illuminating "Author's Essay." No stories better demonstrate the intimate relationship between humor and deep feeling. These are masterpieces.
The Craft and Commerce of Telling Stories:
Ben and Jennifer Munro